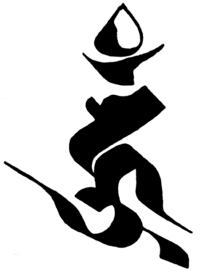 In his Ungi gi Kukai makes hūṃ a cipher for understanding the Truth. The various aspects take in all Truths, all teachings, all practices, and all attainments. It summarises the two basic false views of nihilism and eternalism, and shows them to be false. The Truth of things is that they are neither real nor unreal, these categories do not apply – this is a restatement of the Buddha's fundamental insight into the nature of phenomena, couched in the language of the Madhyamika.
Pronounced /hũː/ (IPA)
How to write the hūṃ seed syllable in Siddhaṃ.
Other bījas: a | āḥ | dhīḥ | hrīḥ | maiṃ | oṃ | tāṃ | traṃ | phaṭ | svāhā |
Examples
हूँ

hūṃ
Siddhaṃ alternative
hūṃ
Devanāgarī
hūṃ
Tibetan (Uchen)
hūṃ
Lantsa
hūṃ
Immitation Chinese
Seal Script